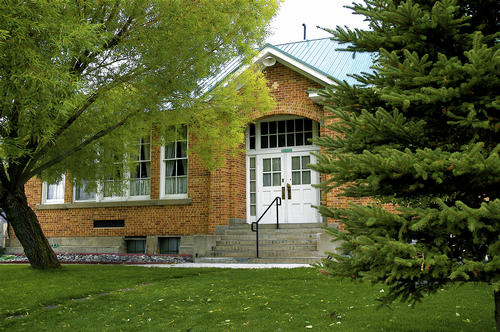 Welcome To The School House Inn
Travel to Lava Hot Springs, Idaho, a year-round resort community, located in a picturesque mountain setting centered between Salt Lake City, Utah and Yellowstone National Park. We are located near Lava Hot Springs and are perfect for large family gatherings, reunions, retreats, receptions, and more. Enjoy all the comforts of home in this 5,500 sq. ft. historic school. Play a game of basketball in the original school gym, take a hike in the nearby mountains, or just relax at the World Famous Hot Springs.
The School House Inn Offers
¨ 5 Bedrooms
¨ 3 ½ Bathrooms
¨ 2 King Beds
¨ 2 Queen Beds
¨ 1 Double Bed
¨ 5 Twin Beds
¨ Large, Fully-Equipped Kitchen
¨ Original School Gym
¨ Satellite TV/DVD Player/Movies
¨ Telephone
¨ Patio/Picnic Table
¨ Fire Pit
¨ Free Wi-Fi
¨ Horseshoe Pit
We just got home from Lava, and I wanted to write and tell you that we had such a blast!! The School House Inn was so great and it was perfect for our family! Our favorite thing we did there was play volleyball. We ended up bringing our net and standards, and we set them up in the gym. We had some serious volleyball games there! Our kids loved the gym to run around in, too. The kitchen area and the family room were very spacious and it just worked out so well. Anyway, I just wanted to let you know that we loved it.
JB, Clearfield, UT
We just returned from our family reunion in Lava Hot Springs. The School House Inn was a wonderful place for our get together. It was clean and nice when we arrived and Raquel was great. We loved the shade trees, the large play area with concrete pad for fireworks, and the firepit. It was nice to have the large living room, kitchen, pantry, and washer and dryer. The big sell, however, is the gym. Not only did the kids and guys shoot a lot of hoops, but we set up our craft area in the gym and had a wild salsa dance with my son as dance instructor. It was nice to be able to make noise without fear of disturbing anyone.
MC, Sandy, UT